Pasadena Concrete Pressure Washing
Concrete cleaning is an art in itself that only a few can master. We at Pasadena Pressure Washing have taken the time to research and analyze the proper ways to clean concrete so the results last a lot longer than some of the other so called pressure washing companies.
Oil stains and rust stains are two of the hardest elements to remove from concrete. Once they enter the pores of the concrete, it is almost impossible to remove all of the stain completely. With the experience of Pasadena Pressure Washing, we have learned which products work well, and which products do not. Depend on us to remove those stubborn stains instead of wasting all your hard earned money on products that fail to get result.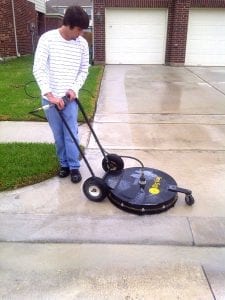 Concrete cleaning and pressure washing is performed on a daily basis by Pasadena Pressure Washing. We perform this function on concrete mostly by using what we call our "Surface Cleaner". It is our concrete cleaning machine that can cover a larger area, at a faster rate, and cleans more accurately than using the typical wand or spray gun cleaning. Using a surface cleaner helps us get jobs done quickly and efficiently. Instead of performing driveway cleaning in 3 hours, it takes more like 1 hour.
After performing your concrete and brick cleaning, we spray them with what we call our "Concrete Cleaning Formula". This is our special formula that will stop any new algae, mold, or moss from forming, acting as a preventative, while also killing off any algae, mold, or mildew that typical pressure washing doesn't remove. This in turn will keep your concrete clean for a much longer period. We also use this technique for brick pavers, natural stone surfaces, and other paved surfaces.
Do you have tile, brick pavers, cool decking, or even travertine on your walkways, pool decks, or porches? Not to worry! Pasadena Pressure Washing is the company that takes the time and know how to correctly perform cleaning for these sensitive materials.
With a 100% customer satisfaction guarantee, Pasadena Pressure Washing is the company to depend on for all your exterior cleaning needs!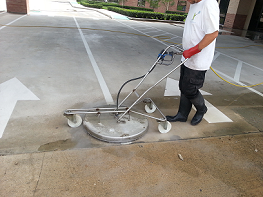 FREE Estimate
Fill out the form below to receive a FREE estimate!